January 2019
Block with 200 mm thickness in format of 6100x2200

So far biacryl has offered blocks > 150 mm laminated, in a small format of 2050x3050 the
monilithic production was tested up to 200 mm, the properties of the biacryl blocks were
confirmed even at these thicknesses.

The monolithic block has advantages over the laminated one, so we continued to follow
this path.

We achieved to produce a block in large format of 6100x2200x 200 mm, the usual quality
criteria of biacryl could be confirmed, such as

- full payload format (no margin decollation)
- absolutely colorless transparent
- low internal stresses
- Scratch-free surface without the need for processing and repolishing
- very good thickness tolerances (+ 1-5 mm)
- very good flatness (max imal deviation of 3 mm)

This block is used in the Center Aquatique de Valencienne, France as swimming pool disc.


September 2018
Cast acrylic sheets UV transparent in oversize!
On demand of a costumer we studyed the possibitly to produce UV transparent sheets.

After some tests biacryl staff confirmed the modified production process.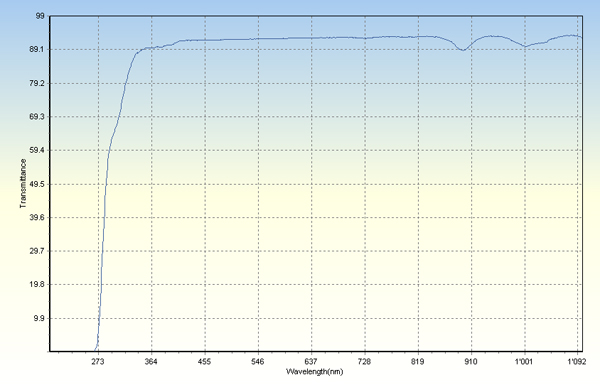 Material biacryl cast 6 mm UV pass.
UV transparent from 270 nm.
Offered sizes are 2450x3500 up to 5100x3100 in 6 to 10 mm.
Contact us for more information!
November 2016

Wiith great astonishment our visitors at K2016 looked at our products.

Those who did not know yet :::biacryl::: were glad to find out the extraordinary quality and sizes of our acrylic sheets and blocks.
And even more amazing they regarded our energy efficiency.
The decision for our sheets and blocks therefore means not only to use the best product on the market but also taking best care for the environment.
April 2016

Due to increased demand, we augmented the capacity for the format 3500x2540mm in the thicknesses 8,10 and 12mm to 300 pieces/year.
The 12mm sheets are especially used for street furniture.
These we will deliver in stock from Germany.
January 2016

CMC Biacryl SA has detected the following power requirement (including the attached Management):
related to the total production in 2015 -> 1,35 KWH/kg
related to standard blocks 40-150mm -> 0,86 KWH/kg
Thus CMC Biacryl SA has according to our research due to the process for standard blocks the least use of energy and thus the lowest CO2 emissions of the industry !!!
In the overall balance Biacryl has avoided 260 tons of CO2 over the past year, as Biacryl thinks not only of today and tomorrow.
January 2015

At the spectacualry construction site at Augustus place in Leipzig, the new construction of the Paulinum, the first section in the chancel is finished. The partition between the Paulinum chapel and auditorium was realized through four components out of :::biacryl:::.
April 2014

:::biacryl::: monolithic blocks up to 150mm!

The first 150-monolithic block was produces successfully!

From now on the formats 2050x3100; 4100x2000; 4100x3100, 5100x3100 are offered monolithic!
February 2014

:::biacryl::: expanded its range to feature new formats:

4100 x 2000

5100 x 2000

6100 x 2200

The formats are available in thicknesses of 40mm to 100mm.
January 2014

The quality of :::biacryl::: convinces! Due to customer demand for quality standard formats :::biacryl::: now also offers the format 2050 x 3100 in the current standard thicknesses.
November 2013

:::biacryl::: blocks: thicknesses up to 340 mm

The Innovation:

:::biacryl::: laminates blocks to very big thicknesses!

Especially for the realization of large aquariums, blocks with thicknesses up to 340 mm are required.
:::biacryl::: expanded its production facilities to the lamination.

Our understanding of lamination is the laminar bonding of 2 or more :::biacryl::: sheets with ethacrylic syrup, which is polymerized and temperature treated.

Intended are sheets up to 3000 x 8000 x 340 mm.

Reference: Zoo Zurich new construction of elephant complex, original sheet 3050 x 8000 x 180 mm, one lamination layer.
October 2013

After several years of developing :::biacryl::: started the mass production of oversize acrylic blocks on a new and own facility.

The development was affected by:

The optimizing of the cell cast technology with high-quality oversize float glass sheets.

Achieve a very consistent polymer made of 100% methyl methacrylate.

The implementation of a high degree of flexibility in thicknesses and formats.

Minimizing of production energy input.
Besides the usual characteristics of cast acrylic such as high transparency and light transmission, no yellowing, thermoplastic, elastic material, good mechanical transformation and thermoforming, :::biacryl::: blocks are standing out by:
• better material properties
• high-molecular
• larger modulus of elasticity and yield point concerning long-term stress
• lower internal stress
• other sizes and thicknesses
• the largest produced widths in Europe (up to 3100 mm)
• monolithically cast thicknesses up to 100 mm
• order-related all between thicknesses from 40 mm possible
• smaller thickness tolerances
• better body structure
• very good planarity
• scratch free
• marketable
• marketable delivery conditions
• good disposability
December 2012

We have completed our first PV solar park with great success.
November 2011

New sizes uncolored and transparent:

3500 x 2540

3300 x 2450

thicknesses: 8-15 mm
April 2010

Aquawindow to Bodensee Horn Switzerland.

First realized a automatic permanent tideness control of sealing with air pressure.
October 2009


Construction of a continuous working PMMA sirop installation, starting of tests.
January 2008

New additional production facilities at Les Verrieres Switzerland.

Ready to start autumn 2010.
September 2007

Size 3100 x 8000 mm

First sheet successfully produced on our facilitys.
April 2007

New Production Size : 6100 mm

For several customers our size 5850 x 3100 was to small.

Since the 1.4.2007 the moulds are changed on 6100 x 3100 mm for 10 to 25 mm thickness.
January 2007

Heavy Equipment

Our own steal department realizes moulds and transport/handling constructions.

At our facility, aquarium panels are produced in all transportable sizes, the greater one will be assembled by site.
October 2006

New Oven Capacity

As a reaction on bigger growing panels we realized the second big oven
Sheet 5000 x 4000 mm transformed to tunnel aquarium.

Acrylic constructions until 9000 x 4400 x 4400 mm can be temperature treated.

The big curved panels will first chemical bonded and then curved in one piece.

For even bigger sheets we are using the mobile temperature treatment unit.
July 2006

Project Müritzeum in Waren, Germany

Transport and placement of the biggest in europe manufactured acrylic aquarium panel, 5700x5300x270 mm chemical bonded, weight 10500 kg
April 2006

Chemical Bonding On Site!

The tendency for bigger growing aquarium panels made us develop the procedure "chemical bonding on site".

The glue lines are nearly invisible connected: The procedure was tested on 6 meter high and 270mm thick acrylic blocks.